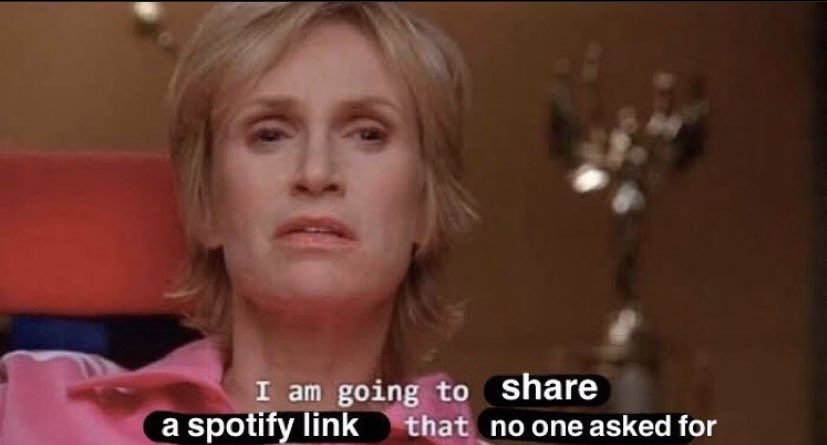 Currently Listening to: 1/2 dove, 1/2 pigeon by Micko & the Mellotronics
There's No Way Man… NO WAY
It's that infamous time of year where Spotify lies to us about what we've been listening to all year long. Truthfully it seemed like the world's soundtrack should've been a mix of Help! by The Beatles, It's the End of the World as We Know it by R.E.M., and Till the World Ends by Britney Spears… and UCLA just because that song slaps. I can't speak for everyone, but every year I get surprised about what appears on my Spotify Wrapped at the end of the year. Maybe not the songs as much, but the artists and ESPECIALLY the minutes listened never seem right. I can't think of too many times where I don't have music on in the background or playing in my car unless I'm listening to Sirius or Soundcloud.
My personal feelings aside, I asked on Snapchat and Twitter to send me your Spotify Wrapped 2020 and I would rank them based on my personal liking. HOWEVER! I have decided to change the rules to RATE them instead because everyone has their own music tastes and who am I to say what slaps and what sucks you know? SIKE it IS my choice to decide if your year was good or not HAHAHAHA!! Not really, but this is also a way of discovering new music too not only for me, but for whoever decides to read past my lengthy intro. Before I start just know whoever submitted theirs… this is how I, CAMPBELL, feel about your year end tunes. Don't take what I say personally obviously because your music is your music. Art is art by personal definition. Also if you're reading this and you want me to rank yours too I'll insert whoever wants theirs in any time before Christmas Eve! Just shoot me a text, Snapchat, Facebook message, or email on my home page. I'll also drop a few recommendations based on your Wrapped in case you wanted more artists to listen to, unless you've already heard them of course. Nevertheless… Here we go!
Michael
Alright man, we talked about how you didn't know how this happened so you guessed it you're at the bottom. Honestly though, none of these artists are downright awful or even bad in my eyes. I loved Green Day in their prime and Ski Mask the Slump God is one of the most talented and underappreciated rappers this past decade. Billy Marchiafava is someone I've never heard of prior, but I do like his style and beats. The only thing is that I can only take bbno$ in small doses and same with lentra. They make good SINGLES just not albums in my eyes. Your top song personally is not my taste either, but still you seemed pretty aware of how you felt about your own list so I can't knock you too hard for that. Overall I don't hate your list by any means. You have a specific genre theme that you stick to and that's apparent. If you're ashamed of that though then I don't know what to tell you haha!
Rating: 6 out of 10 Baby Wipes (Ski-Mask reference for those who don;t know)
Nelly
Alright Nelly, first off I wanna commend you on your 75,317 minutes that shit is ADMIRABLE. The fact that Oliver Tree is your fifth most listened to artist… ADMIRABLE man! I've personally never been a huge Peep fan, but I respect what he did for the genre. A pioneer and pretty much coined the reason that rappers are calling themselves rock-stars nowadays (shoutout to Mario Judah). Same goes for Trippie Redd except I've never really explored his music, I do like what I've heard! That song with Travis Scott is phenomenal though, the overnight bakers at work would always blast it when we were opening.
While I DO enjoy me some $uicideBoy$ and definitely appeared on my Spotify Wrapped back in 2017, seeing it on yours reminded me of the time that I almost died at their set during Lollapalooza that year and my friend's leg was bleeding from an unexpected mosh pit. So unfortunately you lose a point for resurfacing a suppressed memory (ouch!). Bad Bunny had an amazing 2020 dropping I think 3 projects? Either way I see that La Cancion is your top song of the year which CUDOS boy that's a great track.
I didn't know what Girls song that is in your top five songs since there's so many songs with that title…HOWEVER if it's The 1975 or Kid Cudi… you went OFF.
So with all that stuff above being said, I listened to all the songs and sampled a Bad Bunny and Trippie since I'm not totally familiar with them, but overall I liked yours a lot Nelly. Like I said earlier though I gotta dock points for you bringing back that $uicideBoy$ memory how dare you.
Rating: 7 out of 10 Alien Boys
Lauren
Full disclosure, I was about to watch Hamilton last night but fell asleep because I ate too much so my opinion might change when it comes to your list Lauren. From what I've heard from Hamilton's soundtrack I don't hate anything that I've heard at all. I'm guessing that is why Lin-Manuel Miranda and Leslie Odom Jr. are in your list too? Totally correct me if I'm wrong.
Lauv is VERY hit or miss with me. Tattoos Together is your top song too I see and you know what that is dope as fuck because that is my favorite song by him. 5 Seconds of Summer, while I'm not a huge fan, are a bit over-hated and really matured their style recently which I think is awesome. ALSO I gotta give you bonus points for introducing me to Ashton Irwin this year, I really enjoyed that album. For those reading and like me, didn't know before, Ashton is a member of 5SOS which is great that he is successful on both spectrums.
Speaking of boybands, Harry Styles maaaaan. You have Sunflower Vol 6 AND Golden in your top five. IMMACULATE. Fine Line surprised the fuck out of me. I first listened to that album while moving my stuff back from the dorms after you know that disease thing kick our butts out of school. Good memories.
Overall, I like your taste and I dig your list. I'm interested to see how much of your top 100 songs of this year consists of Hamilton songs since you said you had so much of a phase.
Rating: 7 out of 10 Kiwis
Popp
Popp you gave me so many recommendations throughout this year and I'd say that 90% of them land my man. I think our taste in music is like a venn diagram where our circles are massive, but they somehow overlap to the tiniest degree. Like more than half the artists here in your list I actually really dig. I remember you added LURK to the Snapchat playlist, one of my favorite things added to it actually. Hot Mulligan is another where you talk a lot about them and I'll see your tweets from and about them to the point where I was like I gotta check them out for myself. I fuck with it man. They somehow sound like 2000s punk but with a modern twist? I don't know how else to say it. I know we had a shared love of Falling in Reverse back in the day though so that makes sense. I don't have much to say about Gulch but I did really enjoy that short album they put out this year.
Turnstile was an interesting discovery from your list too. Again, it's borderline something I would like. I think the musicianship is definitely apparent and instrumentally they have the most chemistry out of your top five easily. Your top song being The Gospel is great too, I'm gonna assume it's the Knocked Loose song.
Counterparts I'm near certain you've sent me before, but I just forgot to save it. They're not particularly my taste, but that's definitely your circle of the venn diagram.
Soooooo, that being said, you probably stuck to your genre the most out of anyone on this list and you clearly have a lot of passion about your music which is dope as fuck.
Rating: 7 out of 10 Mulligan Stews
Montana
The fact that Paramore is on your list almost guarantees you a 10 man. I mean my cringey snapchat username is named after them, but we're not gonna talk about my early life crisis. We're talking about your Spotify Wrapped in 2020. Dude I gotta say this is a near flawless picture in my eyes.
A Day to Remember appearing here took me back man. The Downfall of Us All is one of my favorite songs of all time. Very important part of my middle school to high school transition. Neck Deep we've talked about before and like The Downfall of Us All, December is also one of my all time favorite songs. They are a consistently great pop-punk band. Kind of like All Time Low! Sick segue, right? While in my eyes they have missed a few times, they have some of the most vital pop-punk singles ever. Backseat Serenade, Sick Little Games, and Dear Maria, Count Me In (obviously).
The 1975 I could go on and on about. Magnificent is the best way to describe them. I'll never forget the first time that I heard Sex while listening to my Paramore Pandora station. They've grown so much and evolve their sound every album. Like seriously, none of their albums sound the same.
All of your top songs I can honestly say with dignity that I love. I didn't know what Maniac you were referring to, but if it's Conan Gray then… sick. Honestly he's criminally underappreciated in the industry.
I really fuck with your taste and I've told you this before, ours probably overlap more than a few times if it posted our full Spotify Wrapped playlists.
Rating: 9 out of 10 Rose Colored Boys
Meghan
Oh Meghan, you already know I gotta give you shit for WAP being your number two song. Big frowny face from me, but you already know my complicated relationship with that song *shudders*. BUT I do not hate Megan Thee Stallion at all. She's got endless talent, but she wastes it on songs like Body *shudders*. Cardi B better not be that high for you because of how many times you played WAP.
As for country I am not the biggest fan of that genre, but Luke Combs is as far as I will go into mainstream country. I distinctly remember playing cards in the dorms with everyone while Luke Combs was playing in the background… good ol 414 times.
Ed Sheeran is like Megan for me. I love a good part of his music, but I don't like the direction he is going at the moment. I loved it when he was making stuff like Lego House and Thinking Out Loud.
Morgan Wallen is someone who I just don't vibe with whatsoever, but like I said country isn't for me. There's plenty of other people who would disagree with me.
Overall, I think our tastes are kind of distant for the most part, but that isn't to say I disagree with your list. You stick to your genres and not a lot of people do that.
Rating: 5 out of 10 Macaroni Pots
Summer
Summer… You really like Mr. Styles man. All your top songs were songs off of Fine Line and you know what… that's totally SICK. Fine Line is fantastic. Like I said earlier too I adore The 1975 and we've talked about how great they are before. Hopefully they tour next year because Notes on a Conditional Form is SPICY.
One Direction is the only boy band that I'll admittedly say that I'm a fan of unless you count Brockhampton although kind of a self proclaimed thing. I'm curious as to if you liked earlier 1D or if you prefer newer 1D. They definitely changed their style kind of halfway through their somewhat short lived time together.
The Driver Era and Wallows I sort of group into the same category. I LIKE what I've heard from both of these artists I just haven't given them enough time of day to explore them. Although that song Wallows put out about athletics or working out (I don't remember) is awful to me.
Overall I know a bit about your taste in music and based on the Wrapped it only solidifies that you have a solid list of artists your listen to.
Rating: 8 out of 10 Clay Jensens
Emma
Damn Emma, 110,667 minutes of listening?! That's like a two hours! Nah for real though that's one of the biggest Wrappeds I've ever seen I'm jealous.
I love looking at lists like yours because while writing these reviews I listen to all these artists and yours had a few I had not been familiar with. Movements and Boston Manor I really enjoyed. I know fans of Boston Manor usually have a very strong emotional connection with their music and it's not hard to see why. They have a very passionate delivery and I really liked the amount of visible effort they put into their songwriting.
Like I said earlier about Hot Mulligan, I really enjoy their music but there's so much left uncovered I've yet to discover about them. Equip Sunglasses is also on your list like Popp's and that song is VITAL.
As for nothing.nowhere I try every year to see if my thoughts on them change, but I just can't connect with them. Not to say it isn't quality, it's just not for me I don't think.
La Bouquet was interesting too. I'll look into them as well.
Your list might be my favorite, we might not have the exact same taste, but I had the most fun out of any of the other lists from what I discovered.
Rating: 9 out of 10 Hammers
Kaitlyn
For whatever reason 1D and Harry Styles have been making more than a few appearances on this entry. Why? Oh yeah because they're dope duh. I'll be honest Kaitlyn, I never knew anyone who liked Niall the way that you do. Most people I knew growing up or from back in my hometown pick Zayn or Harry. That Niall album from this year that you suggested surprised me actually. I didn't expect to like it as much as I did. I've yet to listen to his debut yet, though I'll let you know.
While I respect 5SOS I for whatever reason can't stick with them. I never really cared for when they first broke big either. It wasn't really until Youngblood (yeah I know judge me) that they caught my attention.
Like I said in Meghan's Wrapped, I'm not the biggest fan of mainstream country. Thomas Rhett does have a nice voice though. Personally, my biggest gripe with mainstream country is that it sounds like pop music in disguise and kind of takes away from the culture.
I respect the 1D additions no doubt, the other two artists just never caught my attention. Not a terrible list though by any means!
Rating: 6 out of 10 Slow Hands
Ari
Ari, maaaaan, I know this blog took way too long to write but hopefully it's worth the wait. I don't know how much BTS fans I would draw for this blog, but thankfully the Army won't kill me for saying that I do actually enjoy their music. I think collectively they have a lot of talent and are cultural landmarks no doubt. If you're a member of the Army and reading this please don't kill me I have too much to look forward to in life, throw away my address.
No shade I promise, but I didn't know that people still messed with Katy Perry like that. Not to say she doesn't deserve love, but I personally haven't really liked anything she has put out since Prism. I love Teenage Dream though, which Katy Perry era were you listening to?
I'm not too familiar with either Ingrid Michaelson or Sleeping at Last, but I was a fan of Girls Chase Boys back in the middle school days. Sleeping at Last, while I respect the sound, I personally don't seek out music like that or listen to covers really. I'm guessing by your most listened to songs of the year that they are covers from them like Fix You and Already Gone, right?
When you first sent me your list and I saw High School Musical I was like maaaaaaan dope!! Confession though I have not seen the third one, so I can't judge the full soundtrack. The first two are very much guilty pleasures though. Bet on It should be the national anthem and We're All in This Together should replace the Star Spangled Banner. I won't take any argument otherwise.
Rating: 6 out of 10 Troy Boltons
Jon
Jon I oughta give you an extra point because you were my biggest guacamole supporter back in spring semester. Not only that, but you got a pretty solid Wrapped too to accompany that.
Logic used to be top ten rappers for me, but he dropped off after a few albums (Supermarket and Confessions of a Dangerous Mind really rubbed me the wrong way). No Pressure though this year was the best comeback he could've hoped for. I really enjoyed it, hopefully it isn't really his last album.
J. Cole is one of the greats. I don't care what anyone says, he doesn't have an album below a 7. I feel like I don't need to say anything else.
Travis and ScHoolboy Q are really interesting ones, especially Q. I feel like he is criminally underrated ESPECIALLY Blankface. That album has zero misses. What albums did you listen to the most from either of them?
Bad Bunny, I don't have a ton to say about other than I do think he is a valuable rising talent. Like BTS we need more culture in the mainstream in the U.S.
For your songs I have pretty much no gripe, EXCEPT for @ MEH. I think it's one of Carti's worst songs to date, but honestly the hype for Whole Lotta Red is so strong that it almost doesn't even matter.
Rating: 8 out of 10 Dad Bods
Outro
Shoutout to whoever submitted their Wrapped and trusted me to give my thoughts and opinions about their tastes. If you have any recommendations for the music that you submitted that you think that I would enjoy, feel free to shoot me a few! They're always welcome.